February 23rd, 2010
Why would anyone waste their time trying to release a record in the digitally-downloaded world of 2010? Why spend weeks and months preparing for the release of a album no one but your mates will probably hear? As the answers are still unclear, let's attempt to find out…

Back in the summer of 2008, a man in his second childhood spent many months – perhaps years – to creating a beautiful collection of songs using nothing more than a couple of wonderful female vocalists and Pro Tools on his Mac.  After a triumphant day out culminating in seeing Neil Young live for the fifth time, two different, youngish men sat in the ensuing traffic jam trying to leave the festival for five hours.  What to do?  Smoke a joint?  Okay.  Listen to this new collection of songs on repeat for the duration of the delay?  Okay.  At about 1.30am it all made sense: this album was made by someone at the same level of "stoned-ness" as they were now, the bliss, the euphoria, those vocals, that repetitive beats, the bass loping along underneath…"we should create a record label and release this album!"
In October 2008, The Sables first album South Southern Angel was released on Honey Be Records.  With a Single of the Week on Mark Radcliffe & Stuart Maconie's Radio 2 evening show under its belt, and the potential of being an Album of the Week off the back of the single, we bought 1,200 physical copies of the album…well, it'd be terrible to miss out on selling as many as we could because we only made 250 copies, wouldn't it?  In the last 18 months I must've walked past 1,000 copies of that CD on my way to the bathroom at least once per copy.
So you live and learn.  You don't buy hundreds (definitely not thousands) of physical copies of an album, not at the back end of the first decade of the 21st Century, the Digital Decade…which brings us to April 2009.  On return from a 3 month sojourn round the global village, Honey Be were given three new tracks by one of our favourite songwriters.  When I first saw The Marlins play in 2003, I realised that some bands play at making music.  And that's okay, it's a hobby, no problem.  Some bands are – or should be – destined for bigger things because of their songwriting, their "chops", their presence on stage.  The Marlins were such a band.  Matt Marr wrote many of the songs.  Then in 2006 he recorded an album – Beach In The Fallin' Rain now retrospectively released on Honey Be (limited to 250 physical copies!).  In 2008 a self-titled EP was released by himself and now Matt's second full-length collection of songs, Currency of Souls, is available as a free download for a month from February 23rd.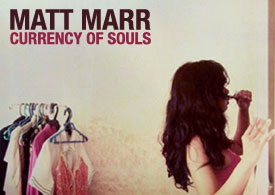 As well as being able to hear the whole album on Drift Europe's music player, you can listen to and download the entire album for free from both Matt's own website – mattmarr.co.uk – and his dedicated Bandcamp site.  In addition, you can currently listen to tracks from the album on Soundclick, Soundcloud, Virb, thesixtyone, blip.fm, Last.fm MySpace and Reverbnation.  The next stage is sending out 3 track promos to radio stations and then the full album to magazine reviewers.  This blanket coverage combined with free limited giveaways of music are the way the industry is going.  Since Radiohead made In Rainbows available at a price the music lover decided, the music industry has had to change its ways.  Of course, many people still enjoy the process of holding a physical copy of the album in their hands – that's why a limited number of the CD will be available from the album's official release on April 6th.  But equally, the internet and its digital services make voracious collectors of music wherever and whenever its made available – I noticed this morning that I've downloaded 57 free tunes from various sources this month alone!  Good stuff from established artists too – Massive Attack, Gorillaz, Broken Social Scene…this is the future, come and benefit from it today!
Matt Marr's Currency of Souls is freely downloadable between 23rd February and 22nd March.  In return for your email address, you can be the proud owner of ten songs handcrafted and put "out there" for the world to hear.  If you like it, please spread the word on MySpace, Facebook, Twitter or even, wait for it, by speaking directly to another human being!  Matt Marr and Honey Be Records will be forever in your debt.
This post is also published at Drift Surfing online magazine.
test Filed under
music
| Tags:
Beach In The Fallin' Rain
,
Currency of Souls
,
Honey Be Records
,
Matt Marr
,
neil young
,
Radiohead
,
The Marlins
,
the Sables
|
Comment (0)